The phone message says someone will be with me "shortly." From Canada Life's perspective, that means 60 minutes or more. And maybe not even then.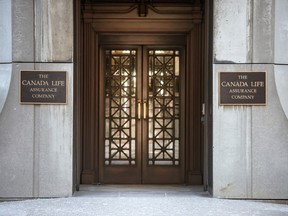 Article content
As I wait on hold, I think of how it used to be when the quality of health insurance benefits for federal public servants, present and retired, was simple, efficient, effective and fair. That was in the halcyon days when Sun Life dealt with all claims.
Then, three months ago, Canada Life Assurance took over the claim administration of most sections of the once-excellent plan.
Article content
The company had ample notice to prepare to take over the contract that Sun Life had held for many years. Apparently, they did not hire the extra staff required to be available to answer any questions and administer claims/benefits to the estimated 1.5 million public servants with coverage under the plan. It apparently didn't occur to anyone that giving a massive job to another company might, just might, cause confusion to recipients and require administrators to be easy to reach and to be well informed, in talking to anyone with the time to wait, and wait and wait on hold for a response.
As I write, I am listening to (quite pleasant but still irritating) "on hold" music, preceded by a promise that a representative will be with me shortly. That message was followed by explaining the meaning of "shortly" from Canada Life's perspective as 60 minutes or more. And the only reason that I was even given the choice of waiting is that I had pressed option three at the beginning of the call — a number actually meant for health care providers and pharmacists. The first two options for members requesting information on health or dental care coverage announced that service representatives were temporarily unavailable.
Article content
By contrast, the dental plan for retirees has remained with Sun Life. (I'm thankful for this blessing.) There is never a problem reaching a Sun Life rep by phone either on the local or the 800 number. Any queries are answered immediately and claims fulfilled promptly. But, as president of the Public Service Alliance of Canada Chris Aylward has said, since the contract was awarded to Canada Life, there has been nothing but problems for the members.
How I — and likely every other federal public servant — wishes that we could turn the clock back to Sun Life for the entire health-insurance plan. Why it was ever moved remains a mystery, hidden beneath many layers of bureaucratic lack of logic or possibly favouritism of some type. As I see it, the promise of better benefits and coverage of more services has already been broken.
As things stand, my experience is that claims are processed slowly, very slowly, and in a ragged fashion. For example, only one small section of the first claim I submitted (on Aug. 15) has been answered so far (as of Sept. 27). The cheque for $36 was half of what it should have been for this small section of the claim (ambulance transportation to and from hospital) with no explanation of why the second part of this section had been omitted. Another section of the claim (for prescription drugs) was rejected entirely without explanation.
Article content
The largest section, for a patient lift for my husband, has not yet been assessed, though the paperwork with the rejection does say that if my claim "included multiple expenses, some may be assessed separately" together with a promise that I will "receive another statement for those expenses." There is, of course, no indication of when that might be.
While the caller is left on hold, the muzak is regularly interrupted to encourage use of the website instead of trying to speak to a human being, who might just have enough training by now to answer a question that is not answered online. One of the other promises is that booklets with all the information members need will be "available on the website soon." Does Canada Life's "soon" fall into the same category as its "shortly"?
I am still on hold — for well over the 60 minutes mentioned initially — as I complete the writing of this piece, and I still need answers to a number of questions.
Iris Winston is an Almonte writer. She was a federal public servant for 20 years.
Related Stories
Public servants criticize rollout of new health care plan as 'chaotic'

Treasury Board president Anita Anand says priorities include refocusing spending, maintaining good relations with unions
link