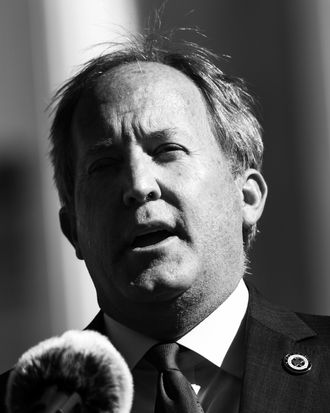 Texas attorney general Ken Paxton
Photo: Drew Angerer/Getty Images
Leadership in Texas is once again looking to criminalize gender-affirming care for trans minors, attempting to place hormone therapy and puberty blockers in the same class as child abuse. As NBC notes, Texas attorney general Ken Paxton and Governor Greg Abbott have been working toward this goal for months; last year, Republican lawmakers tried (and failed) to pass a bill threatening parents with prison if they supported their kids' transitions. While they've yet to succeed, and while medical professionals largely disagree with their reasoning and their aims, Abbott is now directing the state's Department of Family and Protective Services to "conduct a prompt and thorough investigation" where children are reported to be transitioning.
Similarly to the state's extreme six-week abortion ban, Abbott's order hinges on community reporting, explicitly requiring people in certain professions to alert child protective services when they suspect a minor may be undergoing a supportive transition. But unlike the abortion example, it does not change state law, leading many to label it a gross overreach. And within a week, it's triggered a lawsuit from the American Civil Liberties Union of Texas and Lambda Legal arguing that Abbott is acting outside the scope of his office and in violation of Texas law. Here's everything we know about the situation so far.
"Texas law imposes reporting requirements upon all licensed professionals who have direct contact with children who may be subject to such abuse, including doctors, nurses, and teachers, and provides criminal penalties for failure to report such child abuse," reads a letter from Abbott dated February 22. By "such abuse," he means gender-affirmation surgery, (reversible) puberty-blocking drugs, and hormone therapy, all treatments that may be administered during a transition.
Still, it's worth noting that transgender youth almost never undergo surgery; before puberty, most trans kids will transition socially, selecting the name, pronouns, and personal style that align with their gender identity. Gender-affirming surgery typically isn't recommended for minors, but an opinion Paxton put forth on February 18 — which Abbott is using to justify his order — dangles "genital mutilation" as a scare tactic. Paxton also claims that all forms of gender-affirming care carry the threat of "mental or emotional injury" to children, inflicting physical injury and thwarting their development.
The available research confirms that when trans kids receive affirming care, they report lower rates of depression as well as suicidal ideation and attempts — a significant concern, as the incidence of suicide among trans teens is high. (According to a recent survey by the Trevor Project, over half of trans and nonbinary youth contemplated suicide in 2020.) Young people who are allowed gender-affirming treatment also report greater feelings of well-being and safety at school, all of which lines up with an idea that intuitively feels true: Kids are happier when they can be themselves.
Which is one reason why the major medical associations — including but not limited to the American Academy of Pediatrics, the American Psychiatric Association, and the American Medical Association — stand behind gender-affirming treatments, even for minors. When, in August, Abbott directed the DFPS to look into the idea that this genre of medical care constituted child abuse, doctors explained the move as "something to placate the base," as Texas Pediatric Society president Seth Kaplan put it to the Texas Tribune. In other words, it was politics rather than viable medical guidance.
To be clear, the directive does not change state law, though, per the New York Times, the DFPS agreed to investigations. Meanwhile, some district attorneys — who decide whether or not to prosecute crimes — indicated they wouldn't pursue charges in these cases. Harris County attorney Christian Menefee told the paper: "This is a complete misrepresentation of the definition of abuse in the family code."
But the intent, and the stigma, still matter here, particularly given that, as of April 2021, an estimated 21 states had passed laws limiting or outlawing gender-affirming care for trans teens. Texas alone has sought to block trans people from medical care, bathrooms, and sports teams. In November, conservative pressure closed a first-of-its-kind clinic in Dallas that supported transitioning youth, though the program did not even offer surgery. And that, according to Menefee, is precisely the point of Abbott's tactic. "It's designed to make parents scared," he told the Times. "It's designed to make doctors scared for even facilitating gender-affirming health care."
So far it's done exactly that: Trans teens in Texas, and their families, have reported anxiety and confusion. The New York Times reports that some health-care providers have suspended treatment for trans minors. "​I know I have to fight. I know I have to speak up. I know I have to show up for her. But how do I alleviate her stress when I'm stressed?" one parent, whose 13-year-old daughter is trans, told the Texas Tribune. "The fact that she has to do the fighting, too — it's just terrible. She had to mature so much faster than kids her age."
Filed on March 1 in an Austin state court, the suit accuses Abbott of acting beyond his legal authority to erroneously expand the definition of child abuse, actively harming kids in the process. The ACLU of Texas and Lambda Legal filed the complaint on behalf of a 16-year-old girl identified as Mary Doe and her parents, John and Jane Doe, and a Houston psychologist named Megan Mooney, who now finds herself required to report her patients.
According to court documents, Mary's pediatrician (and then other medical professionals) diagnosed her with gender dysphoria at a young age, recommending treatment including "puberty-delaying medication and hormone therapy to initiate puberty consistent with her female gender." Mary's parents, according to the lawsuit, saw their daughter's mental health improve significantly as a result of the treatment, but the day after Abbott issued his order, Jane — a DFPS employee — was placed on leave. On February 24, the lawsuit says, the department notified her that she and her husband were under investigation for possible child abuse. A child-protective-services officer who visited their home the next day told them it was because "they have a transgender daughter and that their daughter may have been provided with … gender-affirming health care and is 'currently transitioning from male to female,'" according to the lawsuit. Jane could lose her job and the health insurance it provides her family, the complaint says, while she and her husband risk placement on the child-sex-abuse registry. Mary, meanwhile, is "traumatized" and deeply distressed at the thought of being separated from her parents and blocked from transitioning.
Dr. Mooney, meanwhile, now finds herself in Abbott's mandatory-reporter category, the lawsuit explains, obligated to sever her patients from treatment options that she has seen deliver "tremendous health benefits." Mooney evaluates teens for gender dysphoria and refers them for care; according to the filing, she "has seen young people who were depressed and feeling hopeless and scared for their future begin to feel happy and optimistic just by starting medications to suppress puberty or to develop the secondary sex characteristics that align with their gender identity." If she goes against her own best medical judgment (and the recommendations of her field) to comply with the order, she would violate her own oath to "do no harm," the suit says, retraumatizing her clients. If she does not comply, she risks losing her license and faces the possibility of a criminal or civil investigation. Outside of attorneys' fees, none of the plaintiffs are seeking monetary relief — they are just asking that the order be blocked.
This article has been updated.
link